Scott Daniels | February 20, 2014
It has been commonly reported that the APJs are instituting approximately 85% of the inter partes review requests filed.  This institution rate might be declining, however, as the APJs critically review petitioners' application of the challenged claims to the cited prior art. 
 The statutory standard for deciding whether to institute is, of course, whether the petition and any response from the patents shows that "there is a reasonable likelihood that the petitioner would prevail with respect to at least 1 of the claims challenged in the petition."  35 U.S.C. § 314(a); emphasis added.  In their application of this standard, however, the APJs require each detail of how the claims relate to the prior art be expressly defined. 
 Last Thursday's decision denying institution in Medtronic, Inc. v. NuVasive, Inc. (IPR2013-00504) is a case-in-point.  NuVasive's patent – which is the subject of an infringement action in the Southern District of California – claims a spinal fusion implant.  In customary fashion, Medtronic presented a claim chart linking each limitation of NuVasive's challenged claims to the disclosure of the prior art. 
Among those limitations was one reciting a certain width and length relation of the patented implant.  Medtronic presented the following drawing from the primary prior art reference, identifying the length and width dimensions with horizontal and vertical arrows. 
 Maximum Lateral Width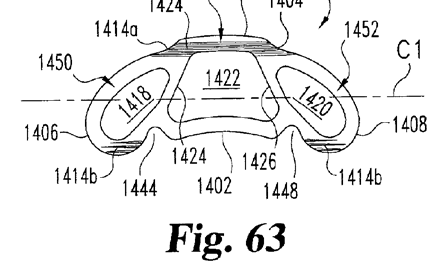 Longitudinal Length
Medtronic then explained that this drawing from the primary prior art reference
provides that the implant has a longitudinal length that extends from the proximal wall to the distal wall and a maximum lateral width extending from the first side wall to the second sidewall. As shown in Figure 63 of Frey, the longitudinal length is perpendicular to, and greater than, the maximum lateral width.
This explanation did satisfy the APJs.
Medtronic recognizes that the medial plane of the implant would be a plane that intersects the implant approximately at the midpoint of the longitudinal length. The maximal lateral width, as shown in annotated Figure 63, is not at the midpoint of the longitudinal length, but is closer to one end of the implant than the other. Stated differently, Medtronic does not explain how the maximum lateral width of the implant is along a medial plane that is generally perpendicular to the longitudinal length, as required by independent claim 1.
(Emphasis added).  Thus, in the APJs' opinion, Medtronic's analysis failed to track the wording of the claim limitation and thus failed to demonstrate "a reasonable likelihood that it will prevail on any of the challenges."
The message for practitioners is that an IPR petition is not merely the opening salvo of the long campaign.  Rather, every aspect of a proposed ground for review must be explained with unerring precision.